Imagine crossing the ocean in a ship this small. Worse, imagine that you live on the 'tween deck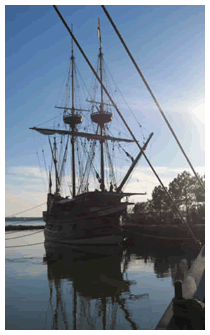 of such a ship and must entertain your small daughter for eight or ten weeks. And with the gunports sealed shut, there is little light or no air...since you are considered living cargo. You know that you are heading to a dangerous land, Virginia.
Then, nearly to your destination, a hurricane strikes... There were perhaps a hundred women with children traveling to Jamestown that summer of 1609. Many were alone, since their husbands were on the flagship Sea Venture. The horror they endured that fateful July day is something we can only imagine.
September 2005
at Jamestown Settlement in Jamestown, Virginia

Wh
en James, the interpreter, kindly offered me a chance to lower the flags of the reproduction Susan Constant, I jumped at the chance.
Below is the ship's upper deck—a view the passengers would only have seen if the ship were at a virtual standstill—and only then at the Captain's whims.